I've been trying to write a newsletter for a week now. The content I was grappling with before is just too heavy for me to really put into words right now, my mind isn't operating at full capacity (I'm sure many of you can relate) and honestly, all I wanna do right now is write just to write and listen to Iggy Pop. Actually, I really want to listen to covers of "I Wanna Be Your Dog" - especially Joan Jett's.
While I haven't had cable in years, I recently got Pluto TV which sort of operates like cable - there are channels live-streaming all day and night and there's a guide. Friday morning, I was hoping to catch some Jersey Shore reruns but to my discontentment, the MTV channel was streaming Floribama Shore, whatever that is. So I scrolled through the movie channels and decided to give CBGB a shot. I'm glad I did. It was a cute, fictionalized history of one of my favorite periods in music in New York - the emergence of punk and new wave. I hate being reminded that I didn't get to be alive during this exciting time - especially now. Like here I am, spending my 20's quarantined in the house, when I could have been privileged enough to be one of the first people to hear the Talking Heads or Iggy Pop play live or meet Patti Smith in the magic days she so beautifully wrote about in "Just Kids." I never got to go dancing at the Limelight. I'll never get over the fact that I have to live these experiences through reading and watching movies. Actually, it's one of my life goals to write a non-fiction book about this period in history. I still don't know how I can take a different approach from the ones I've already read, but I'll figure it out.
Anyway, it's been a very weird week. Despite finally being diagnosed with ADHD and treated for it, it's still too much for me to focus on anything for too long right now. I can hardly sit down for a movie. It's amazing that I did this week. I also read last night and this morning, which is something I haven't been able to do in weeks. I have been trying for nearly a year to finish this James Baldwin novel that I started in my Baldwin class at Hunter last Spring. I miss that class so much. The book, Just Above My Head is practically Bible-sized and like much of Baldwin's work, is full of Biblical references. I'm not a religious person but I always appreciate his thoughts on religion and how it affected his life, I love how he writes it into all of his books and his characters. When I opened it last night, it just so happened that I was right up to a passage that I really needed to read at that moment. The narrator Arthur was reflecting on his life on his thirtieth birthday. I'm not quite there yet but it looks like I might be when this quarantine is over, so I've been thinking about that birthday a lot lately and how the plans we make for ourselves don't always work out, how our ideas of success change overnight, and how much my life might change or not change by the time I reach that milestone. And oh, he wrote so beautifully about love and being alone. Here's an excerpt:
Side by side, and hand in hand, your sunsets, nevertheless, are not occurring in the same universe. It is not merely that the rain falls differently on each of you, for that can be a wonder and joy: it is that what is rain for the one is not rain for the other.
I usually don't like to fold pages and underline passages - I don't know why. I guess because I'm used to reading books from the library and not buying my own. But I have been marking this book up. I know I'll come back to it when I need it. The way that James Baldwin describes love is never idealized - it's always so human and rooted in understanding and self-perception. Anyway, consider this a highly recommended quarantine book.
If you're looking for something lighter, like YA fiction, might I suggest diving into Becky Albertalli's collection? Simon vs. the Homo Sapiens Agenda, Leah on the Offbeat and The Upside of Unrequited are all in the same universe with some of the same characters. I flew through them all, and just finished What If It's Us, which I loved. I'm on the last of her books now with Yes No Maybe So and I'm taking my time with it because I don't want it to end!
If you like to read on your phone or tablet, I hope that you are taking advantage of the New York Public Library's collection which you can access with a library card and the SimplyE app. If you don't have a card, you can apply for one on the SimplyE app!
If you're a physical copy kind of person, I have linked Becky Albertalli's collection and Baldwin's Just Above My Head above, to purchase from Bookshop, which is a new website that's supporting independent bookstores through this time. You can read more about that here. You can also order from your local bookshop - some are even doing curbside pickup and delivery from store, like Book Revue in Long Island. Do what you can to make it easiest for everyone.
I don't want to talk too much about the current state of the world, cause I'm sure you're all well-informed, but I want to give a big shout out to all of the people who have been privileged enough to keep their jobs and housing without worries and have been using their privilege to support people who have lost their jobs and are worried about making rent by donating money to them directly or advocating for rent freezes, and so on. Of course, there are plenty of people who are worried about income and rent even when we're not in the middle of a pandemic and to no surprise they've all been stepping up to help each other because that's what poor people do. I don't think poor is a bad word. I wear it with pride these days because, to me, it represents a level of humanity that people with financial privilege don't understand. I wish I could have felt this way when I was younger and got bullied for being poor and did everything I could to hide it from everyone around me, but hey, at least I'm here now.
If you are someone whose job and housing are secure, and you know you have friends or neighbors whose income and housing security have been affected, do something nice for them - send them some money, whatever you can part with, $5 or $20, maybe more. Get them some groceries on your next run and don't ask them to pay you back. Be there for people, directly.
Also, don't listen to any of the bullshit that Trump and Giuliani are trying to push right now!
On to the recommendations…
What to watch this week:
Movies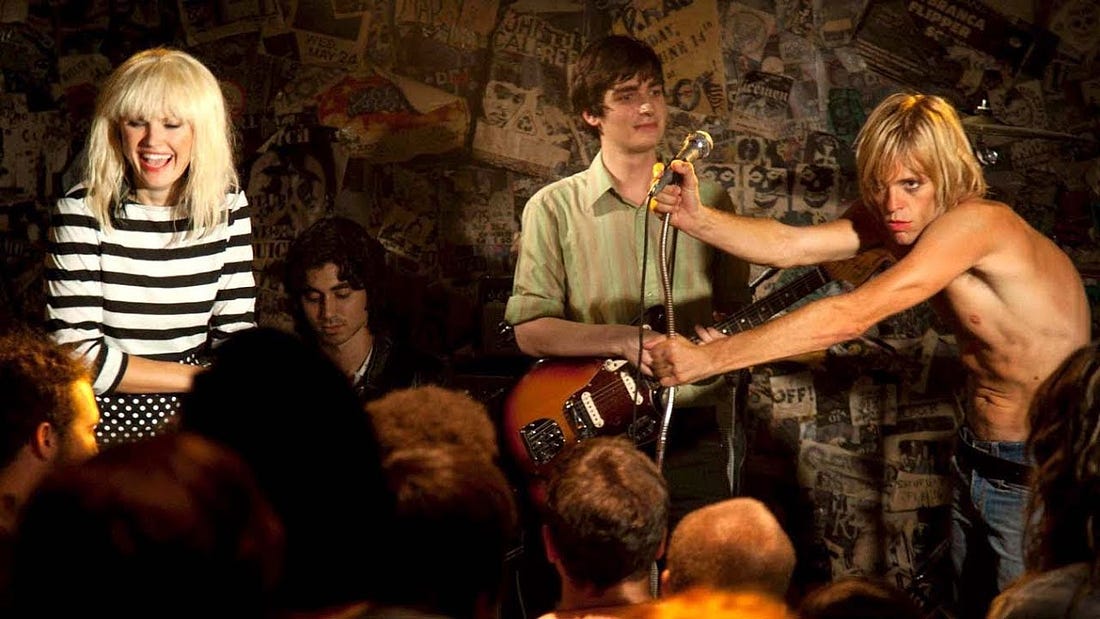 CBGB on Tubi and Pluto
Aside from Alan Rickman, none of the actors really stun in this movie, but it's funny to see Rupert Grint whip his junk out to prove to a journalist that he is a natural redhead. A lot of the dialogue given to the rockstars is overexaggerated and overperformed, but I still enjoyed this movie a lot. I appreciate the glimpse into the making of these bands and CBGB and Hilly Krystal's influence. It inspired me to look into the origin of "Because the Night" because it never seemed like something Patti Smith would write on her own, and I learned that it was originally Bruce Springsteen's song. Read about that here if you want to know more.
TV
Little Fires Everywhere on Hulu
This show is exceeding my expectations. To be honest, I didn't really have expectations because I didn't read the book or know the story. The world they've built in this show is easy to get immersed in. All the women are giving amazing performances in every episode. The dialogue is well-written and emotional. I wish that we got to see more of young Elena because I love Anna Sophia Robb - maybe we will get more in later episodes. I don't want to say too much about what it's about, but it is timely and also timeless, especially when it comes to race and class relations. I'm really excited to see how everything unfolds. New episodes release on Wednesday nights, so it gives me something to look forward to.
What to eat this week:
I'm bringing this back because I've made the same thing a couple times during this self-isolation and it's a hit and easy. Sorry to the vegetarians - this recipe is Buffalo Chicken Stuffed Twice-Baked Potatoes.
Ingredients: chicken breasts (1-2 lbs), Frank's red hot sauce, butter, 6-8 potatoes, sour cream or cream cheese, shredded cheese (preferably cheddar), ranch dressing
I've been making my buffalo chicken in my instant pot, using this recipe and adding ranch to the mix. If you don't have an instant pot, you can use this recipe. I bake my potatoes at 450° for about 30 min to an hour depending on size. Once the potatoes are soft, I slice them in half, scoop out the filling gently, and add it to a bowl. I add salt and pepper, sour cream or cream cheese, and butter and mash it all together. Then, I add the mashed potatoes back to the scooped out potato skins, top it with the buffalo chicken, then top it with shredded cheese and put it back in the oven for another 5-10 minutes, depending on how melty/crispy you like your cheese. Top with ranch, and dinner is served!
---
I hope your local grocery stores are practicing social distancing regulations, I hope they are stocked with your favorite snacks, I hope you and your families and loved ones are doing well and staying healthy and safe. If you are celebrating any religious holidays or birthdays during these difficult times, I hope you are still able to make the most of it. Eat lots of Reeses Peanut Butter Eggs!
Thanks for reading,
Kaitlin