I actually never saw a Big Red commercial with that song. I think it was before my time. But my dad loved Big Red gum when I was a kid. I could always count on finding a pack in his pants pockets and stealing a stick, only to spit it out a few seconds letter because I couldn't handle the heat. And I did see Get Over It, a million times, and fell in love with the scene of Ben auditioning for the school's production of A Midsummer Night's Dream with that song. Anyway, the "hold tight a little longer" part seemed relevant, cause that's what we all have to do right now. Now, look at the above meme and forget that it's been *weeks* since I've sent a newsletter, because what even is a week anyway? I certainly don't know anymore. Actually, this week has felt more like a week than usual because I'm doing a 7-day fitness challenge on Instagram that reminds me what day it is and gives a little meaning to each passing day. It's actually been nice, especially since I started this quarantine working out every day and somehow that turned into…sitting on the couch every day. Don't get me wrong, I still sit on the couch every day, but I do get up for a half-hour to exercise so that the couch sitting doesn't make me feel so bad.
Anyway, I've actually had a decent week so far. It's funny what that means to me now. It used to mean none of my subway rides were especially atrocious, I got to see a friend of mine, maybe go out to eat at a restaurant I'd been wanting to try, maybe see a movie at a theater or wander around downtown NYC and watch the sunset at Washington Square Park. Now, what makes a good week is if I've made good choices in what movies and TV I've watched and if I was able to get the groceries I wanted. Well, I watched a bunch of great stuff this week, like Dave and the season finale of Better Things, and I've had good groceries to make some tasty dishes, like cauliflower gnocchi with chicken sausage, mushrooms, tomato and onion, and chicken and black bean enchiladas. My sister told me about this store, LIDL, which is like ALDI (I actually thought she made a typo when she said she went to LIDL) except maybe a little bigger, better and cheaper. If you have one close enough to get to, I recommend taking a trip there to stock up. Get a lot of cheese! It's all so cheap there! And their non-dairy ice cream is good too and much cheaper than other brands.
Aside from the small things bringing me joy, I've been a little bummed about the one event I was looking forward to, BookCon, being canceled. (They are still having an online BookCon, which is cool, but not the same.) When this whole thing started and I was still naive and optimistic, I thought that July events would be feasible. I was wrong. I was really excited to meet some of my favorite YA authors and take workshops with them. I've been struggling to write lately but I've been doing it anyway, even if I don't like what I'm writing. I'm sure I'm giving myself something to work with. A lot of my workshops in college pushed the practice of writing every day for 10 minutes. It's amazing what you can come up with when you just write what's on your mind without overanalyzing it. I miss prompts, though. They always got the best stories out of me, stories that I didn't even realize I had inside of me. I'm on the hunt for good online communities and classes, so if you know of anything, let me know. If I find anything that seems worthwhile and accessible I'll be sure to share it in the next newsletter. I'm dying to go back to school for my MFA in Creative Writing, but I don't think I have the right portfolio yet, and I'm also worried that I wouldn't be getting the classroom experience anytime soon. Either way, I have been working on my YA novel, and even if it means I'm writing one new word a day, I'm still working on it, and I'm giving myself credit.
Sorry if this newsletter is a bit self-indulgent, but as I mentioned in the last one, this is the closest I'm gonna get to keeping a quarantine diary, so I'm gonna keep these personal. What else do I have besides my personal life right now, anyway? A fun thing I've done lately is burn cinnamon spice candles and watch movies that remind me of Fall and drink tea that tastes like Fall, because since I can't really go outside, I can manipulate the indoor setting of my home to be whatever season I want it to be. I think I'll make hot cocoa and watch Christmas movies next week. I just wish the claymation ones were available to stream and not as shitty quality rips on Youtube.
I want to remind people that just because the weather is nice, it doesn't mean you should be spending time in crowded parks or gathering with friends and family in large groups. Even if you all think you're healthy, unless you've all been tested for the virus, you truly don't know. Please do your part in keeping everyone safe by staying home as much as possible and actively avoiding situations where you can't maintain a safe distance from others. I know that people think we as individuals should have more of a choice in these matters. You might think it's your freedom, your right as an American. But the freedom you crave will cost the freedom of someone else less fortunate than you, which is probably as American as it gets. Your actions have consequences. Have a conscience. Protect yourself and everyone else.
On to the recommendations:
What to watch this week
TV
Dave, on FX and Hulu
If you would have told me that rapper Lil Dicky's show, Dave, would be my favorite show of 2020, I never would have believed you. And yet, here we are. Dave is a surprising comedy with a lot of heart. Each episode was more original than the last and left me with much to think about. It starts off a little raunchy, but quickly reveals itself to be a well thought out, well-written show with immensely human characters. Highlights of the first season are Ep. 5, Hypeman, which is an incredibly poignant look at mental health and acceptance as well as male friendships, and Ep. 9, Autotune, a deeply personal episode with clever storytelling devices, directed by (the great) Ben Sinclair, the co-creator of High Maintenance. You don't want to miss out on this show.
Movies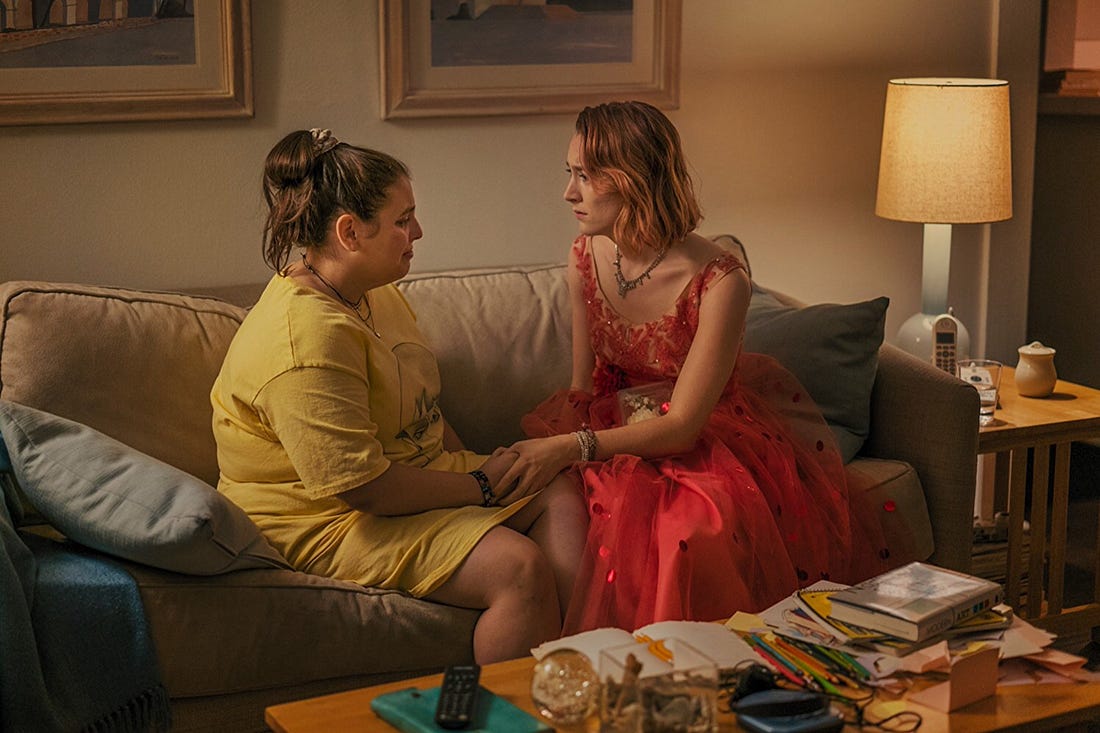 Lady Bird, on Prime
If you haven't seen this masterpiece of a movie yet, what are you waiting for? If you have, what good reason do you have to *not* rewatch it this week? I wholeheartedly believe that Greta Gerwig's solo directorial debut is, by all accounts, a perfect movie. The casting is perfect. The colors are perfect. The script is perfect. The timing and cadence? Perfect. It makes you laugh, it makes you cry, it makes you wanna call your best friend and your mom and tell them that you love them. Christine Smallwood said of Gerwig in reference to Lady Bird, "Her characters are always preternaturally nostalgic, able to look back on recent hurts with the bittersweet regard that it takes more rancorous humans a lifetime to achieve," which is better than I could have said it so all I can say is, yes, true. Watch it immediately.
*Also, this is the third time Greta Gerwig has appeared in my recommended movies but the first time she has appeared as a director.
---
Some fun stuff:
I have a Facetory affiliate link now, so if you shop with them for face masks (both kinds), skin care, hand sanitizer, or anything else, please use it! Here it is.
Also, you can use my code for 15% off your order: KAITLINSTEVENS15
Postmates is running a promo today where you can send a free pint of ice cream to your friends! Search for "The Ice Cream Shop" and select a pint, and use the code "SENDAPINT" at check out. Let me know if you need my address to send me one!
My Spotify playlist is being updated as I feel fit, listen here: Quarantine Playlist (especially if you're tired of 'new' music and want some good older stuff)
---
That's all for now, folks. I promise I'll be back soon. Feel free to bully me into writing more often! It works! And if anyone else looking to write more wants to help hold each other accountable, let me know and we can set up some kind of support group.
Love you all, stay safe and stay home!