spending my 20's in quarantine
sounds like fun right? not always
Apparently it's been 12 days since my last newsletter. Not that time means anything right now. It felt a lot more like 6 days to me, though.
I guess that means it's also been 12 days since I opened a paper book (though I did finish reading an e-book last week.) I haven't been writing. It feels like every time I sit at my computer, getting words out is impossible or that it's meaningless. I know that the second part isn't true but sometimes, I forget.
A lot of people are saying that we should be keeping diaries right now since it's such a historic time, but I do imagine most of them would read: "Saw a bird today. Played my Switch for 7 hours. Ate a bag of chips. Binged a season of a show. Can't wait to do it all again tomorrow." This is the closest I'm getting to writing a diary of these times. I do journal, but not every day. It's a good habit, in all seriousness. I learned the importance of it by reading Patti Smith. So much of her best work is littered with details that could only exist if she was keeping a close record, and she always is.
I have been trying to relax and let go of expectations for myself and my output this week. I failed a little. I ended up doing some work I originally wasn't going to do because the pay was low, but it actually was a welcome distraction and I liked having something to do that didn't require much of my own creativity. It felt like homework, which I actually miss. I'm sure everyone doing homework lately isn't very happy about it, especially given the circumstances. Students have been on my mind so heavily lately.
I was thinking about one of my nonfiction creative writing workshops in the shower a couple of days ago; how it proved to me what I've always known to be true: that everyone has a story to tell. I loved being part of this group's cathartic process of uncovering trauma and telling stories they've been too scared to say out loud. My writing workshops were more therapeutic and eye-opening that any therapy session I've ever had. I'm sure many of my peers feel the same. And it's always been that way, even before I got the chance to take writing workshops.
In the new episode of Better Things (I hope you've started watching), Sam shouts out Lady Macbeth's "Out damned spot!" line. It brought me back to the first time I read those words, in a book and out loud, in my 11th grade English class, Mrs. Matuza. I used to feel bad for her because as many high school classes go, a lot of students didn't take her seriously. I did, though. She had us read Macbeth and Metamorphosis, two works that stuck with me. I love that she introduced us to Metamorphosis, which appeared in at least 3 future English courses in college. I didn't really get it at the time, but I knew it meant something to me and that I felt sorry for Gregor Samsa. I realized how much I understood him the more I read it and the older I got. I remember feeling very cool when I walked into my first English class with the first English professor that made a real difference in my life, Tony Iantosca, and saw that Metamorphosis was printed and on our desks and I was like, "Oh, yeah, I love this one." Anyway, I remember one day, during a lunch period or something I was walking down the hallway and Mrs. Matuza was sitting at a desk in the hall grading papers, and she stopped me and asked me if I was okay, I guess I looked upset - my face always gives me away. And I wasn't okay, and I cried and told her about how my grandma had passed away the week before. And she hugged me and talked to me and I really appreciated it. English teachers have this innate ability to sense their students' woes and talk them through it. Paul Rudd in The Perks of Being a Wallflower is a good movie example! We all connect through stories, so it makes perfect sense. To teach people stories and discuss them and what they meant to us requires opening up to each other, something that is very uncool to do in high school, but your teachers understand and are there for you when you can't really talk to your friends about things. So many people are losing the experience of having that in-person connection with their teachers right now. I don't think they can see all your emotions over your small screen in a Zoom classroom, and even if they do, it's not exactly like they can pull you aside. Students are losing out on so much connection right now. I don't really have a solution for this, so maybe there's no point in talking about it, but I just feel for them so much.
Now that I've depressed everyone, here's how I've been keeping busy this week. Hint: it's been a lot of movie watching. But before we get to that - I've also had a lot of fun looking at apartment listings in New York on Facebook. Between the people who (wisely) fled their apartments for safe shelter in their home states and the Airbnbs that are not getting any guests, there are a bunch of people posting listings for rooms and apartments all over the city and Brooklyn for discounted rates. Some of them don't even bother changing the lingo from their Airbnb listing to reflect a regular apartment listing. The thing that cracks me up the most is the list of close-by restaurants and fun things to do, as if anyone is going to be able to do any of that stuff any time soon. But I guess if you have high hopes that this will be over soon, it might be a good chance to get a much nicer apartment in your budget!
What to watch this week:
Movies
Frances Ha on Netflix
I had been putting off watching this for a while. I honestly don't know why. Maybe when I first tried to watch it, I was put off by the fact that it's in black and white. I'm glad I watched it when I did, though, because a movie about a 27-year old who doesn't really know where her life is going resonates a lot more with me now, as a 27-year old who doesn't really know where her life is going. Spoiler alert: she doesn't end up with all the answers, but she does end up pretty happy. It's a beautiful movie about living with yourself, how the most important relationships in our life can change rapidly, and how no one really has it all figured out, no matter how much it seems that way.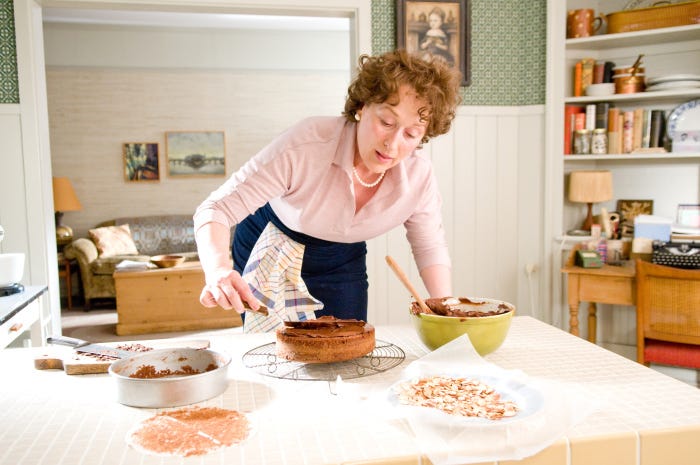 Julie & Julia on Netflix
Keeping on theme, this is a true story, also about a nearly 30-year old woman who is questioning where her life is going (and regretting leaving Brooklyn for Queens, also relatable). She has the crazy idea to start a blog where she cooks all of Julia Child's recipes from "Mastering the Art of French Cooking" in a year. And to her surprise, it takes off (clearly, seeing as there's a movie about it, based on a book.) In that year, she does turn 30, but it's not as bad as she anticipated. She learns a lot about herself, the good, the bad and the ugly, and she cooks some pretty amazing dishes. We get to see how close her life seemed to resemble Julia Child's own life, played wonderfully by Meryl Streep. Julia Child's journey of making her infamous cookbook was a fascinating one to follow.
Bonus
Josie and the Pussycats on Hulu or Prime with Cinemax add-on
This movie was so ahead of it's time. If you've been soaking up the nostalgia as a coping mechanism lately, like many of us have, this is a perfect time capsule back to the chunky Steve Madden slide, over the ears headphone + Walkman, technicolor 2000's, when the mall ruled us all. The cast is perfect, especially Parker Posey and Alan Cummings as the villainous music execs. So many great lines. So much over the top, blatant advertising. It's even more resonant now that we're all well aware that our phones are constantly watching us and telling us what to buy. The soundtrack alone is reason enough to watch.
TV
Feel Good on Netflix
My only complaint is that this premiere season wasn't longer. Mae Martin is a delight and a wonderful actor. The whole cast does a great job bringing their complicated characters to life in this show. Struggles with addiction, relationships, sexuality, and measuring up to others' success are the main themes and they're all done so well. Also, let's face it: I'm so tired of watching shows about heterosexual couples. All they do is cheat on and lie to each other. Riveting. Watch this if you would like to see some refreshing new storylines.
Also, you better all be watching Better Things and Little Fires Everywhere. They get better with every episode!
Some other stuff:
If you need to buy disposable medical masks, Facetory has them in stock currently at $30 for a box of 30. You can use the code MSA20 for 20% off. Buy them here. They also have hand sanitizer, and more importantly, amazing sheet masks.
Text "USPS" to 504-09 and go through the list of actions to support the United States Postal Service, which has not received any assistance from the government during these dire times and is an essential service, with workers on the front lines right now.
---
I hope you're all being kind to each other and to yourselves. Stay home unless you absolutely need to go out. I know it's tempting to leave the house and get the ingredient you wanted for tonight's dinner, but it's not worth it. Get creative! If you don't already have it, get the app SuperCook, which allows you to plug in ingredients and then gives you recipes for all the things you can create.
Also, if anyone cares, I made a playlist of all the songs I've been listening to lately. Listen to it on Spotify. I do have great taste, so you won't be disappointed.
Remember to be easy on people and that we're all doing the best we can right now. Except for Florida, what the fuck are they doing?